EXPERIENCE THE CANALS AND SURROUNDINGS OF DELFT FROM THE WATER
Our boats
Make a pleasant day in Delft complete and sail yourself or let yourself be sailed through the canals and surroundings of Delft
Surroundings & Waterways
Here you will find information about the waters in and around Delft and the surroundings of Delft.
Rates & Reservations
Check out the options and rates here.
Escape the daily rhythm and the corresponding hectic. In a 'whisper' boat you can completely relax. No noisy, roaring and smelly fuel engine, but the sound of rippling water. In one word … enjoy! 
Go exploring with your family and/or friends and discover Delft and its surroundings from the water. Everything is different from the water.
In Delft's canals, you can experience the city's rich history with its breathtaking canal-side houses and its theatrical churches. In the waters around Delft you will sail past buildings that have played an important role in the development of Delft as the technical capital of the Netherlands.
The sloops are 4.30 meters long and 1.85 meters wide. All our boats are equipped with an environmentally friendly 5 HP electric "whisper engine". No license is required for these boats and it is allowed to sail through part of the canals of Delft.
Read more about our boats
The sloops are equipped with a steering console with steering wheel and throttle. The bench with backrest behind the steering console offers room for 2 persons. In the bow of the boat there is a so-called "round seat" that offers room for 3 people. The "round seat" is equipped with seat and back cushions. In the middle there is a removable table. Two boats are equipped with a sunroof. This offers protection from the sun on hot days. Of course, your belongings have been thought of as well. On board there are plenty of storage spaces.
Translated with www.DeepL.com/Translator (free version)
Standard equipment boats
1 Epropulsion Spirit 1.0 Evo plus elektrische buitenboordmotor
1 Epropulsion digitale gashendel
1 of 2 Epropulsion accu's
Kussenset
KuiptafelZonnedak (op aanvraag)
6 stootwillen1 boegboei
1 roeispaan met pikhaak
1 hoosschep
4 reddingsvesten
1 reddingsboei
1 brandblusser
Afvalzak
Informatiekaarten
Vaarregels
Verkeersborden op het water
Vaarkaart/routes van Delft en omgeving1 Epropulsion digital throttle
1 or 2 Epropulsion batteries
Cushions
Cockpit table
Sunroof (on request)
6 fenders
1 bow buoy
1 oar with hook
1 hay shovel
4 life vests
1 life buoy
1 fire extinguisher
Garbage bag
Information cards
Sailing rules
Traffic signs on the water
Sailing map/routes of Delft and surroundings
On the Schie River is the historic city of Delft. This city was created by the start of a reclamation project in 1050 in which delves (graves) were made. This is where 'Delft' got its name from.
Characteristic of Delft are the many canals and historic canal houses.
Delft is centrally located in the Zuid-Holland water area with its many lakes. You have the choice of various sailing routes where you can enjoy a multifaceted city and nature area. Sailing maps are on board, but you can also download the free 'sloepennetwerk' app (link on website). With this app, you always know where you are. With our sloops it is allowed to sail through the canals of Delft. On board there is a sailing route for the canals with documentation on the sights from the water. Highly recommended.
Sailing routes 2 hours
The canal route of Delft
Direction Den Hoorn (Buitenwatersloot)
Direction Kruithuis (The Delftse Schie)
Direction PAUW the Delft Blue factory (De Vliet)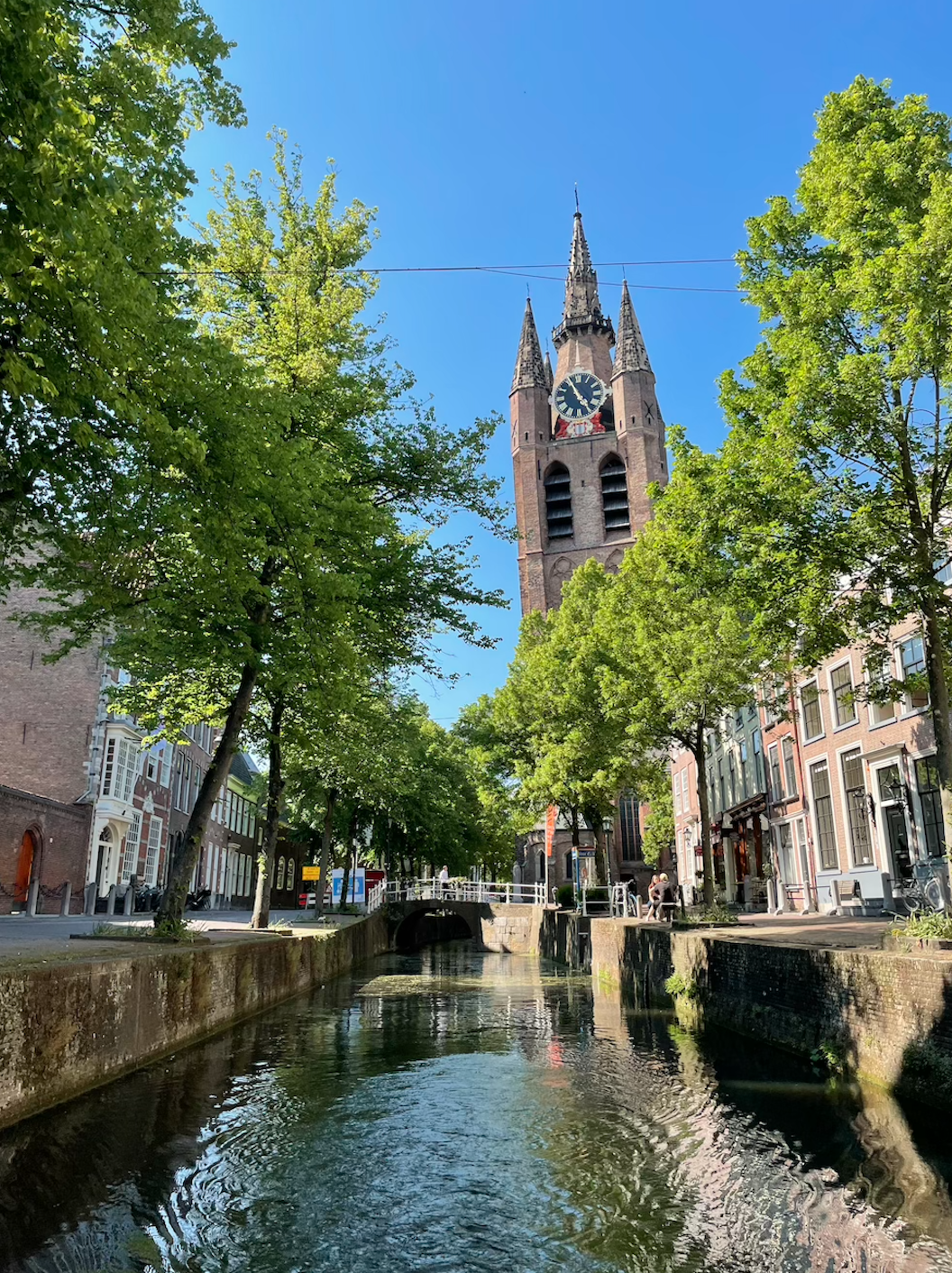 "Sailing through the canals of Delft has always been a wish of ours, it was a great experience".
Check out our rates and how to book here.
Now with introductory discount
van €99,00
voor €69,00
(Borg €150,00)
Possible from 09.00 in the morning to 20.30 in the evening
1.5 uur RONDVAART INCL. SCHIPPER/GIDS/CAVA
Now with introductory discount
van €129,00
voor €89,00
Canal tour and surroundings Delft
Max 4 persons incl. chilled bottle of Cava and one Tapa
€15,00 pp
Olives, pan tomato, brocheta de Pollo, Jamon Serrano, Chorizo, Manchego/Iberico queso, French bread and alioli.
Choice from 2 to a maximum of 5 people
€10,00 per bottle
Choice out of Rosé or Blanca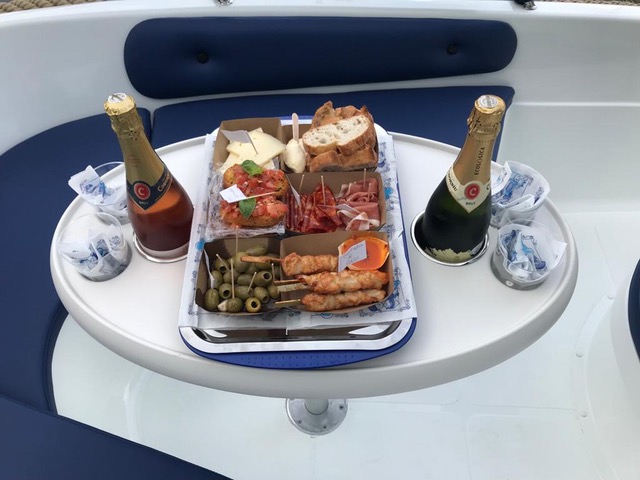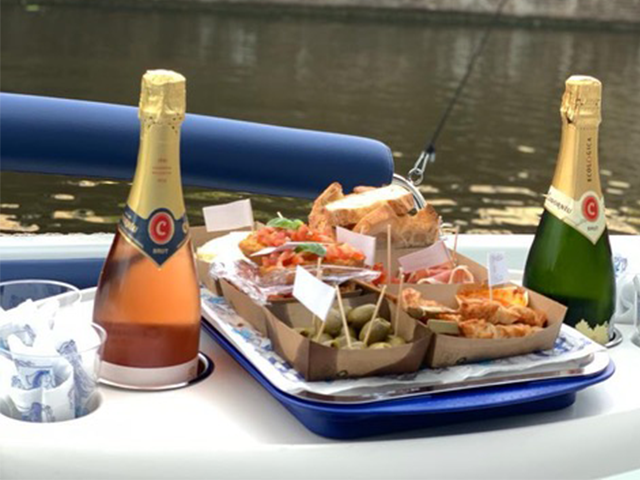 Public transport, bicycle and parking
Please use public transport as much as possible to travel to Delft. The boats are located at the jetty of the Westsingelgracht next to the NS railway station, the bus station (Connexion and RET) and the stop for the Randstadrail (line 19) and HTM (line 1). Under the NS station is a free bicycle shed and within walking distance are 2 parking garages (Prinsenhof garage exit station, Phoenix garage).
Pets
For a fee of €15, your pet may come on board. This fee includes a dog package (water bowl, large towel, life jacket and a bottle of water) and final cleaning.
Rules on the water
Always pass other boats as far right as possible, always sail a clear course, larger and commercial vessels always have priority.
Not permitted
It is not allowed to smoke
No open fire or BBQ
No mooring in Delft
No music in the canals
No alcohol behind the wheel
Reservations can be made by e-mail (info@sloepverhuurdelft.nl), via the 'contact form' or by phone +31(0)6 42 826 100, daily from 10.00 till 21.00.
The reservation will be confirmed by us by e-mail.
Please note! The skipper must be at least 21 years of age
Adress
Westsingelgracht
Close to 'Stationsplein' (trainstation)